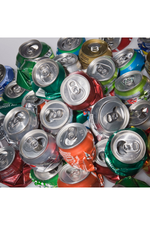 Aluminum is one of the most abundant metals on earth and is widely used in various applications due to its lightweight, corrosion-resistant, and heat-conductive properties. However, recent research has shown that aluminum can be toxic to our bodies, particularly our nervous system. In addition, many aluminum products are lined with BPA alternatives like BPS, which may also pose health risks. In this blog, we will explore the toxicity of aluminum, its impact on our health, and safer alternatives to canned goods.
Aluminum is a neurotoxin, which means it can cause damage to the nervous system. It has been linked to various neurodegenerative disorders such as Alzheimer's disease, Parkinson's disease, and Multiple sclerosis. The link between aluminum and these disorders is due to the accumulation of aluminum in the brain, which can lead to the formation of amyloid plaques, oxidative stress, and inflammation. Research has shown that aluminum can cross the blood-brain barrier and accumulate in the brain, which can lead to damage to the nervous system.
In addition to neurodegenerative disorders, aluminum has also been linked to other health problems. For example, exposure to high levels of aluminum has been associated with bone disorders, such as osteoporosis and osteomalacia. This is because aluminum can interfere with the absorption and metabolism of calcium and phosphorus, which are essential for healthy bones. Furthermore, aluminum can cause damage to the kidneys, liver, and other organs, as well as impair the immune system.
One of the primary sources of aluminum exposure is through the use of aluminum-containing products. This includes food and beverage containers, cookware, and antacids. In particular, canned goods are a significant source of aluminum exposure. Canned foods are lined with a resin that contains BPA alternatives like BPS to prevent the food from coming into direct contact with the aluminum can. However, recent studies have shown that BPS may have similar health risks as BPA.
BPA (Bisphenol A) is a chemical that has been widely used in the production of plastic products such as water bottles, food containers, and canned goods. BPA is a known endocrine disruptor, which means it can interfere with the normal functioning of hormones in the body. This can lead to a range of health problems, including reproductive disorders, obesity, and cancer. In response to concerns about the health risks of BPA, many companies have started using BPA alternatives such as BPS, which is structurally similar to BPA.
However, recent research has shown that BPS may have similar health risks as BPA. For example, a study published in the journal Environmental Health Perspectives found that BPS can disrupt the endocrine system and lead to changes in the expression of genes that are involved in the regulation of estrogen and androgen receptors. In addition, BPS has been shown to have toxic effects on the nervous system and may be linked to behavioral disorders such as ADHD.
Given the health risks associated with aluminum and BPA/BPS, it is important to consider safer alternatives to canned goods. One alternative is to opt for fresh or frozen fruits and vegetables instead of canned ones. Another alternative is to use glass or stainless steel containers instead of aluminum or plastic ones. For example, glass jars are a great option for storing food and can be used to make homemade jams, sauces, and pickles. Stainless steel water bottles and lunch boxes are also a good alternative to plastic ones.
In conclusion, aluminum is a neurotoxin that can cause damage to the nervous system and has been linked to various health problems. Canned goods are a significant source of aluminum exposure, and many of these products are lined with BPA alternatives like BPS, which may also pose health risks. Safer alternatives to canned goods include fresh or frozen fruits