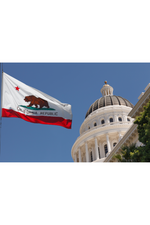 How California is Helping Keep You Safe From Toxic Chemicals
California has been at the forefront of the fight against plastic waste and toxic chemicals in consumer products. Over the past few years, the state has enacted several laws aimed at reducing the use of harmful plastics and promoting sustainability. In this blog post, we will discuss some of the ways California has been working to legislate and ban plastics, including the law AB1200, the ban on PFAs in fast-food packaging, a bill that bans certain toxic materials in makeup, and the state's lawsuits against PFAs.
Law AB1200:
The California Safer Food Packaging and Cookware Act of 2021 (AB 1200), authored by Assemblymember Phil Ting, does three things:
Bans toxic PFAS chemicals in paper food packaging in California. The bill bans the sale or distribution of plant-based food packaging that contains intentionally added perfluoroalkyl and polyfluoroalkyl substances, a class of hazardous chemicals known as PFAS. PFAS are known as 'forever chemicals' because they don't break down; they build up in our bodies and the environment, endangering future generations.
Toxic PFAS are widely used in plant-based (paper) food packaging such as cardboard or paper. Examples of PFAS in food packaging include paper wraps, liners, bags, sleeves, dinnerware (plates, bowls, trays), and takeout containers made of molded fiber. From this packaging PFAS get into our food and water. PFAS migrate into the food from the packaging. PFAS remaining in the food packaging, contaminates soil when it is composted and water systems when it is landfilled.
These chemicals are linked to serious health problems, including breast and other cancers, birth defects, hormone disruption, kidney and liver damage, and thyroid disease.
PFAS have also been linked immune system toxicity – including decreased antibody response to vaccines, an effect that is particularly concerning now in light of COVID-19. Learn more about the links between PFAS and breast cancer.
Requires cookware manufacturers to disclose hazardous chemicals, such as PFAS and BPA (Bisphenol-A). Chemicals to be disclosed are those from the CA Department of Toxic Substances Control's (DTSC) Candidate Chemical List. The disclosure must be on the product label and online.
A recent report by the Ecology Center found that the majority of pans tested, and one fifth of the bakeware tested, were coated with PTFE, a form of PFAS commonly known by the brand Teflon™. When PTFE-coated pans are heated, especially above 400-500ºF, they can release hazardous chemicals, contaminating the air we breathe. In addition to consumer exposures, toxic and persistent chemicals like PFAS in cook and bakeware can expose workers, nearby communities and the environment during the manufacturing stage. PFAS in cook and bakeware can also contaminate groundwater, drinking water, soil and communities suffering from environmental racism at the disposal stage, including through landfilling, recycling or incineration.
Prohibits misleading advertising on cookware packaging about unsafe chemicals in cookware. For example, claims that a product is free of a specific hazardous chemical when other chemicals from the same class are present.
Some marketing claims on cookware labels are misleading buyers into believing the product is free of hazardous chemicals. As an example, pans claiming to be "PFOA free" often contain other harmful PFAS chemicals like PTFE.
Ban on PFAs in Fast-Food Packaging: In 2020, California passed a law that banned the use of PFAs (per- and polyfluoroalkyl substances) in fast-food packaging. PFAs are toxic chemicals that have been linked to cancer, birth defects, and other health problems. This law applies to all fast-food chains that have more than 10 locations in California, and requires them to use alternative materials for food packaging that are free of PFAs. This law is a major step forward in protecting the health of California residents and reducing the amount of toxic chemicals in the state's environment.
Bill Banning Certain Toxic Materials in Makeup: In 2022, California passed a bill that bans the use of certain toxic materials, including phthalates and PFOs (perfluorooctanoic acid), in cosmetics and personal care products. These chemicals are known to be endocrine disruptors and carcinogens, and have been linked to a range of health problems, including reproductive harm and birth defects. The bill requires cosmetics companies to disclose the presence of these toxic chemicals on product labels and to remove them from their products by 2024.
Lawsuits Against PFAs: In addition to these legislative efforts, California has also been at the forefront of the fight against PFAs. In 2020, the state filed lawsuits against several major companies, including 3M, Dupont, and Chemours, alleging that they knowingly released PFAs into the environment and caused widespread contamination. These lawsuits are aimed at holding these companies accountable for their actions and securing compensation for the harm they have caused to California residents and the environment.
Conclusion: In conclusion, California has been leading the way in the fight against plastic waste and toxic chemicals in consumer products. Through laws such as AB1200, the ban on PFAs in fast-food packaging, and the bill banning certain toxic materials in makeup, the state is working to protect its residents and reduce environmental pollution. Additionally, the state's lawsuits against PFAs are a clear indication of its commitment to holding companies accountable for the harm they have caused. By continuing to push for strong environmental protections, California is setting an example for the rest of the country and the world to follow.
Sources:
California Plastic Pollution and Litter Reduction Act, AB1200. (2020, September). https://leginfo.legislature.ca.gov/faces/billNavClient.xhtml?bill_id=201920200AB1200
Ban on PFAs in fast-food packaging (2020). https://www.calrecycle.ca.gov/plastics/pfa