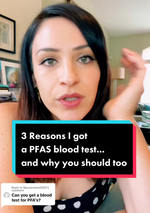 Why I got myself PFAS tested... and why you should too
Here are 3 reasons I got PFAS tested... and why you should too
It all comes down to Knowledge is power. 
PFAS are the Lead of our generation... 
They're in our rainwater, all seafood, many cosmetics and housepaint... and they won't be going away anytime soon. 
In fact, many scientists believe that the amount that we're exposed to will only increase - as the amount that has already been polluted into our environment compounds with new pollution being created - reaching a turning point of exponential pfas in our air & water. 
We will be cleaning up the PFAS pollution for generations - it is expected to cost billions of dollars, per year, per state in order to get to safe levels in our water today... and many companies haven't even stopped polluting them in our water!
There isn't even one way that exists to break down every PFAS strain (and there's over 10,000!)... we need to invent it. 
I needed to know how bad my PFAs blood levels were... so when the PFAS.Report team reached out to me, I jumped at the chance. 
Here are the reasons why I wanted to know:
1. The higher your PFAS blood levels... the bigger the health risks. 
Once you understand how much you have, you partner with your doctor and make a plan on what to do next. 
PFAS are linked to:
- Reduced immune response (you get sicker, more frequently & with more severity)
and the impacts are even worse in children... 
- ADHD, developmental delays, low IQ, metabolic disorders... 
I have 2 children... and if my levels were high in PFAs, then theirs could be as well. 
I needed to understand what our exposure levels were - and ensure that they were fixed as quickly as possible. 
I would never want my children to be permanently impacted by the health problems associated with PFAS... many of which are irreversible. 
2. I needed to know that my "anti-plastic" lifestyle was really working
I've been avoiding plastic for 5 years or so... and much more strictly now, than I was before. And even though it's pretty easy (and much cheaper in many ways) it's still a choice I've consciously made... 
Every time I read a study about something being contaminated with PFAS, I've made the choice to not partake in that product. 
Whether it be microwave bagged popcorn, freshwater fish or sweatproof yoga leggings - I've avoided those things when I've learned about them as sources of PFAS. 
But if I got my test results back and they were still high... then what would that mean?
3. I wanted in on all that DuPont money...
I'm joking of course, but in all seriousness - what many don't realize is that PFAS have been CONSCIOUSLY and intentionally dumped in our drinking water supply for upwards of 50 years... it wasn't by accident. 
And they need to pay for this... and even though they've already paid out BILLIONS of dollars (committed and in settlements) it's a drop in the bucket for how much they've actually profited. They've poisoned future generations - some of which might not be reversible... 
and if you have PFAS in your blood - it's BECAUSE OF THEM. 
And you should definitely go join a class-action lawsuit and get compensated for their negligence, and your potential health risks. 
I'll be sharing my results soon - and why PFAS.Report is an incredible company, that I'm so honored to be partnered with.