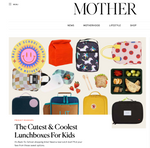 Our Lucabox was featured in Mother mag !
We're so honored and excited to be a part of Mother Mag's newest feature - 
"The Cutest and Coolest Lunchbox for Kids" 
The writer, Katie Hintz-Zambrano, writes "How cool is the tie-dye print on this lightweight, 3-compartment silicone lunchbox? If the swirls aren't your thing, it also comes in green and purple.

The Luca box is a premium, food-grade silicone lunchbox that is both safe and durable. Its 3 compartments provide ample space for a variety of food portions. Perfect for school and work lunch with no worry of spills."
We're so excited and honored!!!